Details

Created: Monday, 14 November 2016 23:09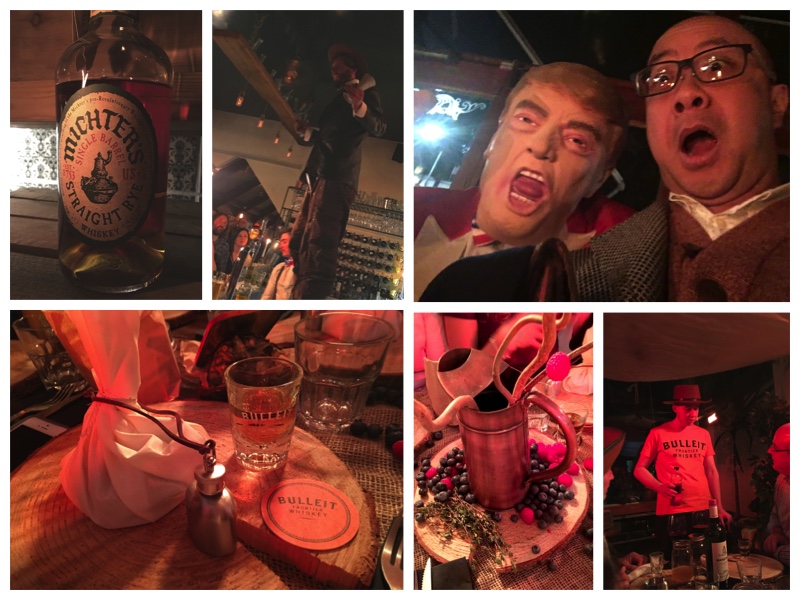 It was American Whiskey theme night over at the Larder House this time (11 Nov 2016). No major structural fabrications this time like there was for the World of Whiskey or the Rum nights, but the fun and games were still there in spades.

On entry, we were actually entering an old Cowboy Saloon to be met by a shot of Rittenhouse Rye whiskey to chased by a shot of pickle juice, a pairing called a Pickleback. Slightly acquired taste but at least I know the leftover pickle juice from those jars have another use. Something oddball to try with your next set of dinner guests methinks.

Whilst the Cowboy Saloon music played on, we were treated to a couple of mixed cocktails in the form of a mint julep made with Evan Williams Extra (a Bourbon), and also a Mellow Corn Blinker (a whiskey made from corn). OK, the night is getting interesting.

With all this alcohol flying around the platters of chicken wings, cured salmon and frickles (fried pickles for the vegetarians) came out at the right time.
Read more: Wicked, wicked, wild, Wild West - The Larder House