SORRY - THEY ARE NOW CLOSED :-(
We need proper Dim Sum in Bournemouth!!!! Help.
Ocean City
Christchurch Road, Bournemouth, Dorset. Tel: 01202 552 903
If you do go because of the article, then please do mention my name when booking. Not that you will get any discount, but good to know people are reading this.
Feb 2014 <Update>
The last owners have gone. Not sure what happened but probably down to their lack of service in the end.
What is good news is that the original team are back. Hooray. great to see the old faces back, faces that have seen our friends children grow up and they are really good with them.
The game is back on.
</update>

Nov 2012 - Another update - things aren't so bad now
After a few weeks since the last visit we tried again, on a Sunday. It was strange to see the car parks front and side half empty around 12.30pm when normally we would have to drive down the end of the road and maybe then some just to park the car up.
However, we were pleasantly surprised that the service was back to normal speeds now. We got the tea straight away after asking, not having to ask 10 minutes later. The food came out snappy as well and more importantly the standard was just as good.
I think I am happy to give it the thumbs-up now and I hope the business returns to the same level of customers as before.
Oct 2012 - This is now under new management
Not sure what happened to the previous owners and staff but the place is under new management.
I do hope things get better with the service as this Sunday we went and it was pretty disappointing. Luckily the food was more or less the same quality although the dim sum standards of Sui Mai and Har Gau were odd in the sense that their skins came away too easily before even being able to bite into them.
Took an age to take our order away, even longer for our tea to come. Pretty basic things in my view and if you can't get those right, then it is a bad start.
So, I am now keeping my fingers firmly crossed and hope that their front of house staff get better in their awareness of customers, can speak better English and the dishes come out quicker. The food we know is just about the same level. I actually thought there was more noodles and rice in the dishes so there were some positives as well as negatives.
---
This was recently renovated over the summer of 2007 and now it has opened as a Chinese restaurant and hotel. I think this is owned by the same person that owns Ocean Palace.

I went with a colleague on a Friday afternoon for some Dim Sum. I saw from the display board by the street that they only do dim sum from 12pm to 5pm, which is a shame. It means I can't just leave work and then fill myself up with dim sum.
It is quite nicely done out inside and pretty large. We chose to sit in the window area and even though it was a grey and clouded over day I started to get quite hot and sweaty. On noticing this the staff did open a few windows around me.

They gave us some laminated menus in English that had numbers, a description and a price for each item. They also give you a pen and a carbon copy form. You then write down against each box the quantity that you want. Simple as that. No embarassing pronunciation of stuff.

I enjoyed the food. All very light. The egg tarts you could barely feel when picking them up or eating them. The Har Gau (prawn dumplings in a white wrapper) and Sui Mai (pork and prawn dumpling in a Wan Ton type wrapper) were plump. I felt the Cheung Fun (I suppose you could call it Chinese lasagne although that would still be far from reality) could have been a bit thicker in its layers and the sauce a bit more sweeter and more of it. The cuttlefish cakes were very meaty, small in radius but thick.

I am glad there is another place that does dim sum that is bigger. Oriental Garden is still a firm favourite but this is a bit better for bringing large groups and family to. Actually now I would say this is the best in Bournemouth.

I went back the next day with Angela and had even more. We sat inside a bit more and it was much cooler! We had some dim sum along with a 3 meat platter with rice. The roast duck was very crispy as was the roast pork. The char sui was also succulent.

This is getting to be a regular place. I wonder what it is like on a Sunday afternoon.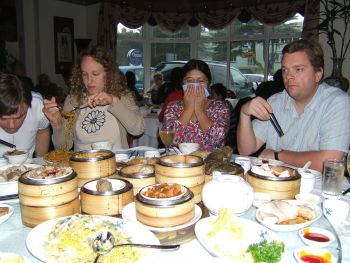 <Update> Oct 07: I have now been on a Sunday and it was very busy. There was 9 of us and I went a bit overboard ordering loads of dim sum on top of the noodle dishes everybody else had ordered. We were really, really stuff at the end. The bill was only £109 and there was a bottle of wine in there as well. Fantastic. </update>
<Update> Apr 08: Went here on Chinese New Year and it was absolutely packed. This is now my favourite place.
<Update> Even my parents like it and think it is good value. Now that is an endorsement!
<Update> Dec 08 : A kind comment form a visitor to our website.
"Hi Gordon and Angela, thanks to your blog page and write up regarding the dim sum in Bournemouth (Ocean City ), my wife and I and two friends went there on Sunday (14th Dec 2008) and had one of the better Dim Sum's we have had for a long while and excellent service.

We live in Southampton and have been Dim Sum lovers since the early 70's when we were the only English people on a sunday at the Golden Palace Rest in Southampton, or London's Chinatown. We regularly eat at the Pearl Harbour in Southampton , but the decor is well overdue (good food though) and more recently the Dragon Palace (for Dim Sum), but their prices have increased too much (they add a service charge regardless, plus a 10% charge on all bills) and they only take cash! The service however, is not that good now anyway, so our new local is now Ocean City Bournemouth, thanks again guys and we will hopefully see you there sometime.

Regards, Nigel and Terry Summerton."