The Larder House has had many theme nights before but they have generally been midweek meaning I didn't get a chance to go but this one was on a Friday so I took the opportunity to try it out. Whisky expert Colin Dunn would be speaking there and I knew the food would be good.

It was a tight squeeze as we all huddled in the front of the restaurant, with all the tables pushed aside, waiting for things to start at 8pm. There was a bagpiper standing by the door but he must have already played by the time we got there as he didn't make another appearance that evening.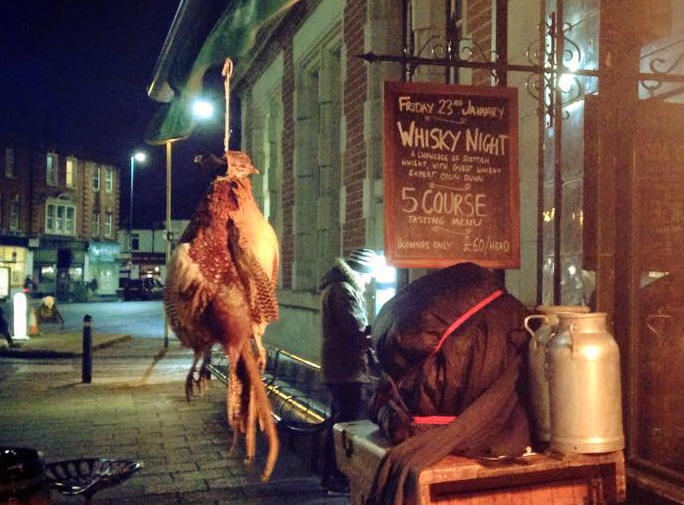 James announced the start of the night and introduced Colin Dunn, a whisky ambassador from Diageo. The first whisky of the night was a cocktail made with Haig Club and some coconut and vanilla in copious amounts of shaved ice. After some canapés we were invited outside.

In its usual quirky style, with the Larder House always trying to be different, we made our way into the garden courtyard walking through a mist spray, picking up a hip flask and with the sounds of a stormy night being played. All the waiting staff were wearing yellow rain capes adding to the atmosphere of a dark stormy night in Scotland.

The hip flask was full of another cocktail called a Talisker Storm Cast Away. A strong concoction that went down a bit too quickly. It was even more of a delight to be told that the engraved flask was a gift that we could take away. A few more tapas to move the night along and to line the stomach before the whisky tasting.

Off we went to the Library of Liquor upstairs and sat down to 5 glasses of whisky. Colin talked us through the interesting history of Johnnie Walker and then we were ready to get down to tasting. The five lined up were the Black, Double Black, Gold, Platinum and Blue Labels. The last glass seemed a bit low but Colin ensured we got another top up of this £200+ per bottle whisky.

We smelt each one in turn, swilled it, gently warming up in our hands and then taking a mouthful and keeping it in the mouth for a while. That takes some doing as it feels like a fire burning away but that is a way of really getting the full flavour of each whisky rather than just swigging it. With the Blue Label we were supposed to hold it in the mouth for two minutes, but I didn't last that long.
We all ended that session watching this video together: The Gentleman's Wager
The table next to us had some whisky left so they mixed it all up and it was lovely. A unique blend that would never be repeated.
Our group then headed downstairs and out into the courtyard to exchange places with the other group as we were split into two given the numbers. A glass of Cardhu punch was next on the agenda until there were ready for us to be seated for our main course. We had a full plate in front of us featuring a venison, rabbit and pheasant pie, a pheasant breast, a parma wrapped duck leg ballontine with celeriac gratin and curly kale.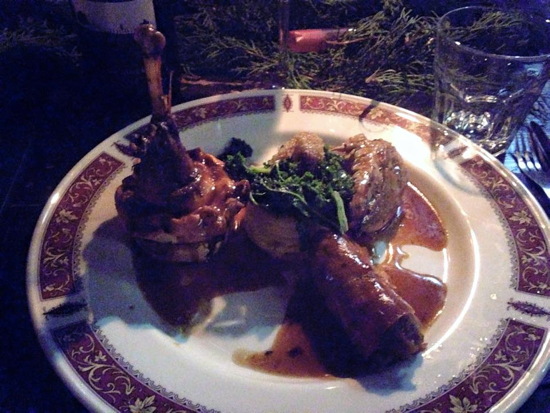 Once we finished the food, there was a butchery demonstration with the small deer that was hanging in the courtyard. I really enjoyed that. Always fascinating to see how real meat is prepped. The chef was really helpful in explaining and answering our questions.

The final course was a pairing Dalwhinnie Distillers Edition with cheese and chocolate.

It was a great night that gently flowed, flowing between different courses and different locations. Well done to James and his team on putting on a fine evening.
I have uploaded some photos onto my Facebook profile: photos on Facebook
Also, a local photographer took some much better quality photos and you can see them in Larder House's Facebook album. Hopefully the link works for you.
If you do go because of the article, then please do mention my name when booking. Not that you will get any discount, but good to know people are reading this.