A Tale of Two Spanish Cities: Girona and Barcelona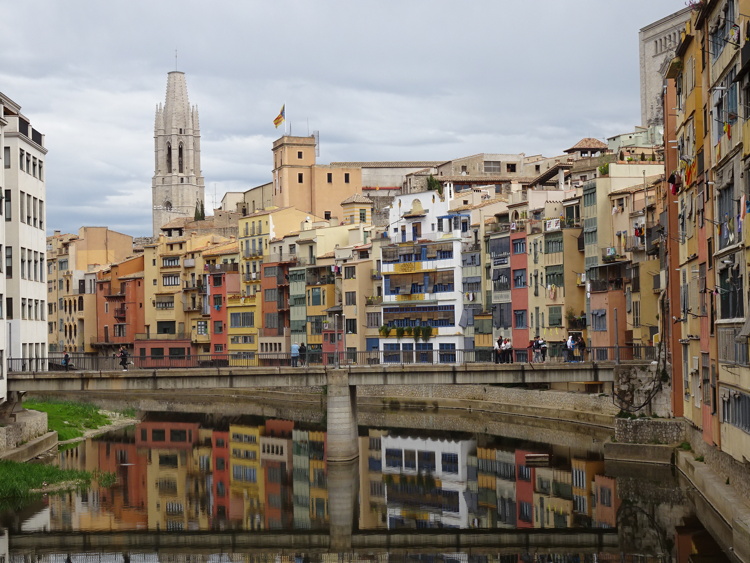 Back in 2017 I did a solo foodie trip from Girona to Barcelona and down to Torrevieja. I loved that time and space to do whatever you want, to meander at whatever pace you felt like and to just change your mind without impact or discussion.
I had a great time, so for my 51st birthday I booked myself a similar trip to Spain but just taking in Girona and Barcelona this time and bringing my wife, so we could revisit the places I had gone to.
EASY JETTING TO GIRONA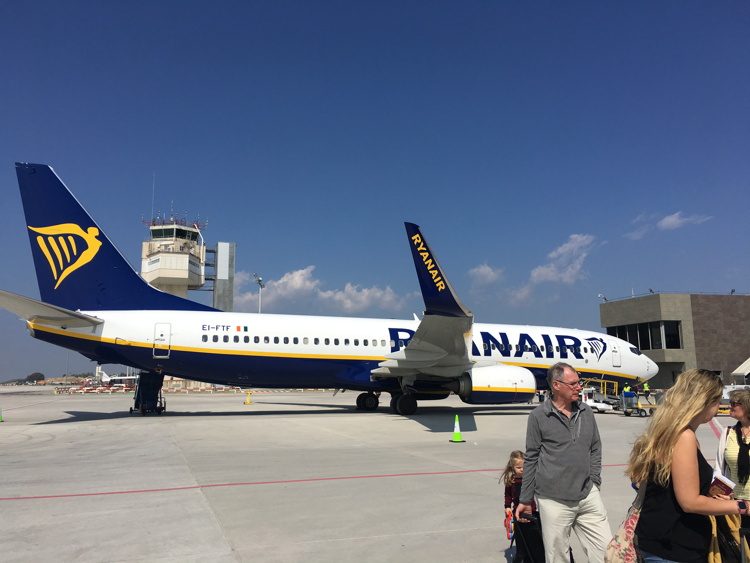 The Ryanair flights from Bournemouth to Girona are so cheap and easy. You can get to Barcelona in under an hour, but I will talk about that later. I hadn't noted that it was the school holidays when I booked pretty early but the prices were still relatively cheap.
Angela had just finished a few days in Nice before meeting me in London for a birthday feast of a brunch at the Ned hotel. That I would thoroughly recommend. There is a separate page for that. So, we got back from London on Sunday night packed and off out again the next day.
The flight only takes about two hours. Once you land you can take a taxi into the centre of Girona for 25+ euro or the bus which is only 2.75 Euro. Come out the airport and turn right and walk to the end where you will find a ticket booth.
The bus leaves every 30 minutes past the hour.
I had stayed right in the old centre last time in a nice small apartment, but the noise was too much with it bouncing down the alley and up the walls. Also, them church bells ringing out the times was annoying.
I found an OK deal via hotels.com with Hilton Doubletree. It was near the bus/train station so I knew it was an easy walk from there, and also that when we wanted to walk into the old town it wasn't going to be a big deal.
Once we unpacked, we headed down town to Tony's like I did on my previous first night. Large beers, chicken wings and the Tony's Salad was especially good. It's a bit touristy but the only place that was open all day. I forgot in Spain they eat later so many restaurants don't open till 7.30pm if not 8pm.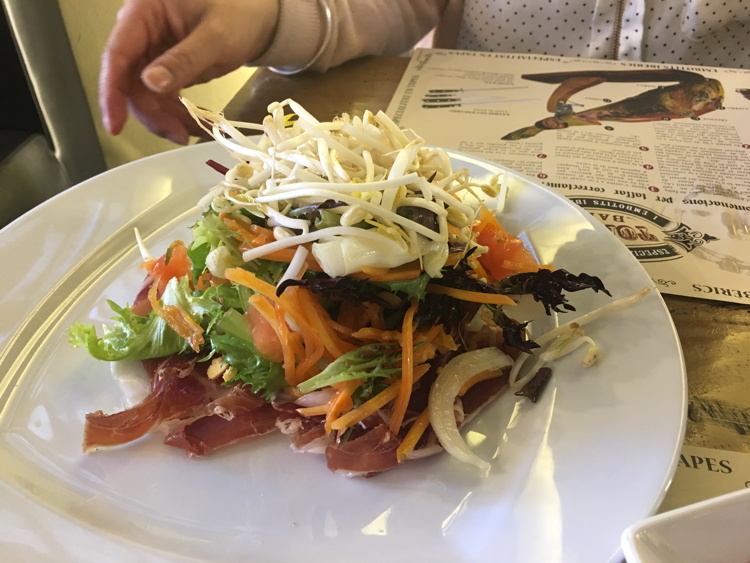 Once we finished eating it was still early and passed a small place called El Café that said it had live music on at 8.30pm. It was Brad and his guitar. He plays as an act called This Frontier Needs Heroes.
We really enjoyed our time there, supping Vermut and white wines, for an average of 2.5 Euro each. I ended up buying his LP on the night.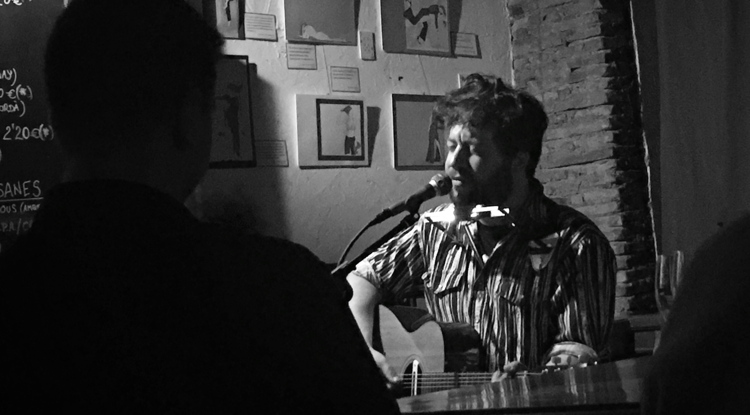 BARCELONA AND COCKTAILS
When I was previously in Barcelona I had a great night at a newly opened cocktail bar called Hemingway Gin Bar, looked after by a bartender called Daniel. We kept in touch via Instagram and I had sent a few other Bournemouth people along to his bars as he subsequently moved to a new sister bar called the Bowery that they opened.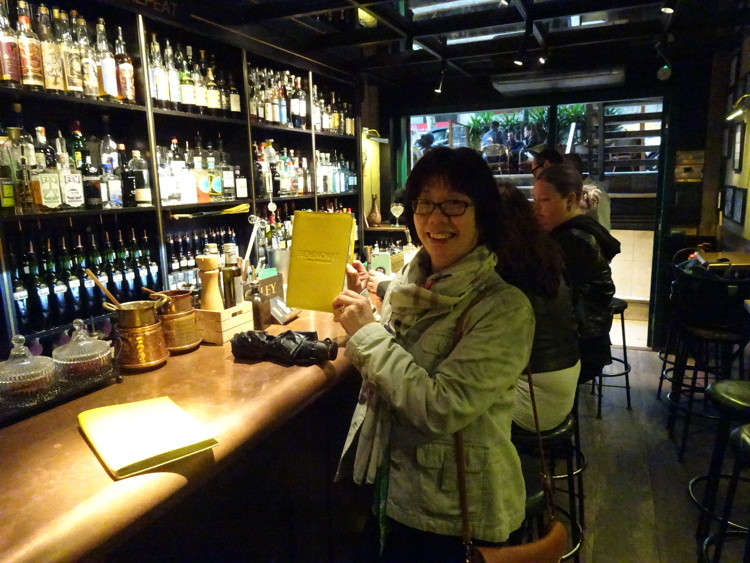 So this time round I wanted to take Angela there. At first I thought we could do a day trip to Barcelona, have a couple of cocktails and then get a late train back but the times weren't great.
I pushed the boat out and book a one-night stay in Barcelona, at the Abbot Hotel, a lovely atmosphere and all that, even though I had paid for four nights at the Double Tree. It would be worth it for the big night out itself. The hotel was just a short walk from Barcelona Sant station and also to the two cocktail bars. I had planned it well.
What I didn't plan on was the fact that as we were checking out of the other hotel and bringing all our stuff, I said we should leave our passports there in the safe, to be safe. This partly because I was pickpocketed on my previous trip, so that was still on my mind.
Luckily Angela made the good decision to bring them along otherwise we would not have been able to check into the Barcelona hotel.
OK, a bit of advice. I wouldn't get the slow train again. Sure, you save 10 Euro, but you lose an hour plus and it wasn't a comfortable journey. Contrast that with the high speed, which is comfortable leather seat and the smoothest of rides.
Another tip, there is a café called Plis Plas on the other side of the main train station that does excellent value coffees and snacks. We paid 4 Euro for two coffees and a mini baguette, which was filling enough.
Leaving the hotel, we turned left and headed for something to eat. We found Restaurante O'Tubo and got stuck into a bottle of wine, some salad, seafood and chops, all to fill us up before the cocktails.
HEMINGWAY AND BOWERY BARS
We first headed to the Hemingway. Michael and Francesco were bartenders for the night. We had a couple there and joined in the fun of a few locals that seemed to be caning it straight after work.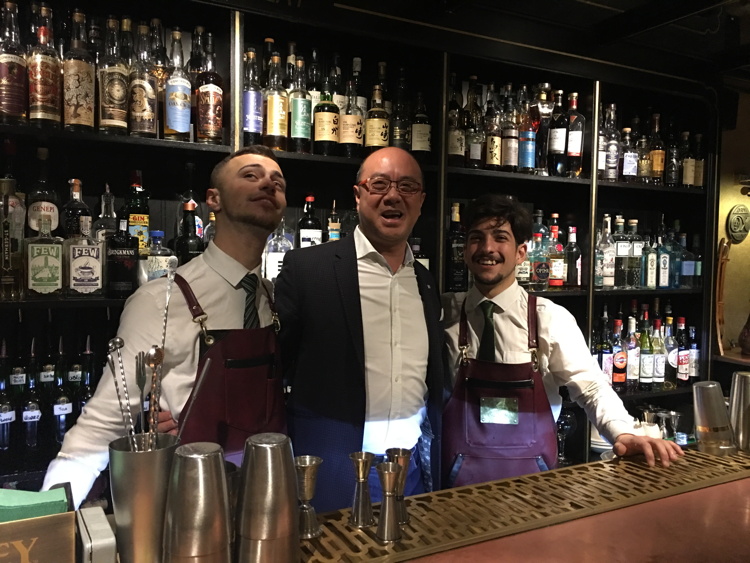 We said farewell and headed off to Bowery, to see my man Daniel, only to find he was on his days off and wouldn't be back till Thursday. Ahhhh noooo, after all that. Fabrizio looked after us for a couple. It was nice to hear about the bar tenders having worked in London for a while just to tune up their skills, learn a new language along the way and get stuck into life.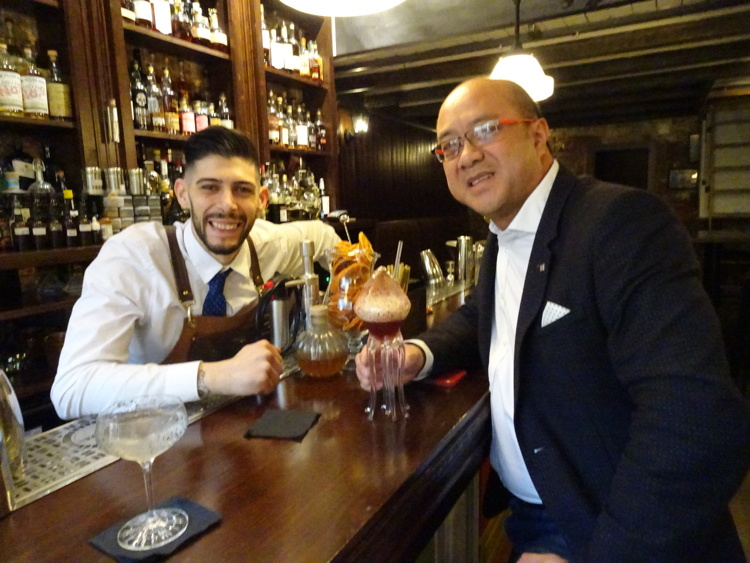 We decided to head back to Hemingway after that. Angela was doing impressively well, keeping up on the cocktail count.
There were only two customers in when we got back but it soon picked up again and was virtually full again, with us all drinking and singing.
We chatted to some other people, got wowed by the cocktails that were coming out. Angela got them to make an equivalent to Pina Colada, and I went off piste getting them to make the stuff I like at the Library such as a Velvet Old Fashioned and a Corn and Oil.
On my, that was our third cocktail session of the night and I had to get the credit card out to pay for it this time as we were on top form and the tab was relatively hefty.
We didn't manage to find a kebab place on the walk home.
This is an insight into our state when we got back to the hotel. I tried to enter our room with the key card, nope didn't work. I then convinced myself the room number was the room number from Girona and tried that. Nope. Finally went downstairs to tell them the key didn't work. Well, it was the Hilton Doubletree key of course. When I did pull out their key, they checked the number for us.
We didn't wake up with hangovers. Even Angela was fine and that is sheer amazing given she normally can only do two to three drinks maximum. Must have been the quality of the night.
PARK GUELL SAYS NO
I ended up with a bad foot with all the walking and a recent injury so wasn't up for walking. We grabbed a quick breakfast and worked out what bus we needed to get to Park Guell to see some Gaudi work.
When we got there, there was a steep hill to walk up that took me a while. When we finally got to the top, there were signs to say all the tickets had been sold out. Was a bit strange as we could see load of space but maybe they wanted to manage numbers to reduce the impact.
We could however walk around the free bit, which goes up high and gives ample views of the park and of the Barcelona skyline. Once we did a quick walk/hobble, it was back to Girona, on the fast train.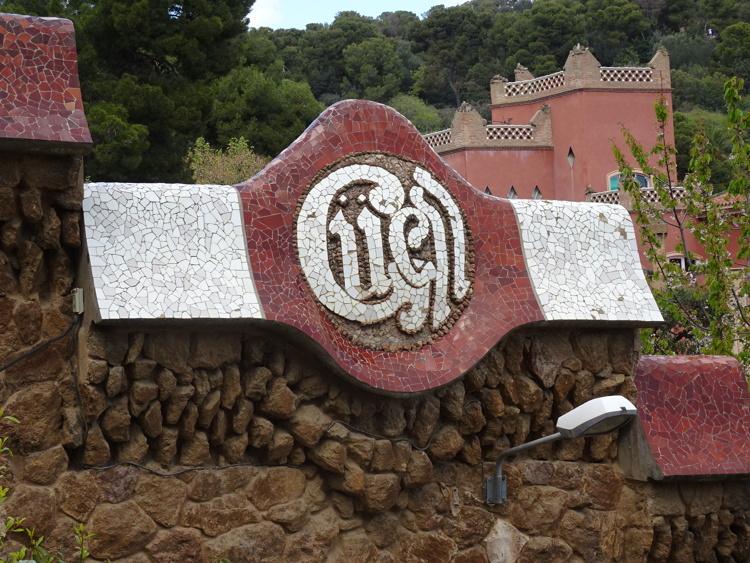 I got myself into a bit of a panic when boarding the train as the ticket showed a carriage and seat number. I showed the ticket to the guy in the bar carriage, then he started to say no, no this is Barcelona. Girona is the next one. That got me thinking we were on the wrong train and it was the next one, so we were basically about to get off. Then some other official looking train people were saying no, this is Barcelona you need to get off at the next stop. OK, I get that, but where is carriage 10. They pointed that way, but when I checked the seat there was someone sitting there. I gave up and just sat in a free pair of seats.
I remember when I travelled down to Torrevieja from Barcelona I couldn't get the first train I tried to get on as all the seats had been sold. I thought on the Girona train I had to be in the right place. As it turned out, it wasn't particularly full.
Wednesday night, back in Girona, we ate at Oishi. The food wasn't the best Japanese food, a bit salty and too much grease at times, but we hadn't had rice or noodles for a while, so it was just what we needed.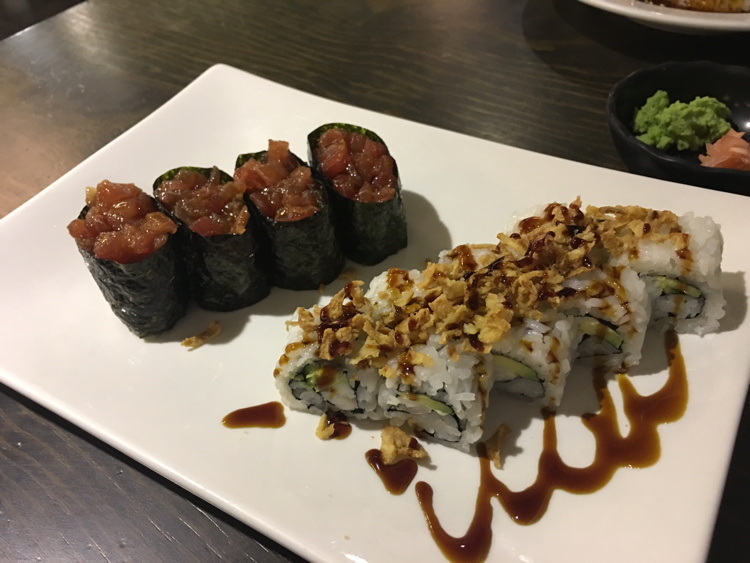 We both went for the 16 Euro menu option but to be honest, after all that sushi rice and noodles, we could have made do with the 13 Euro option.
GIRONA CITY WALL WALK DAY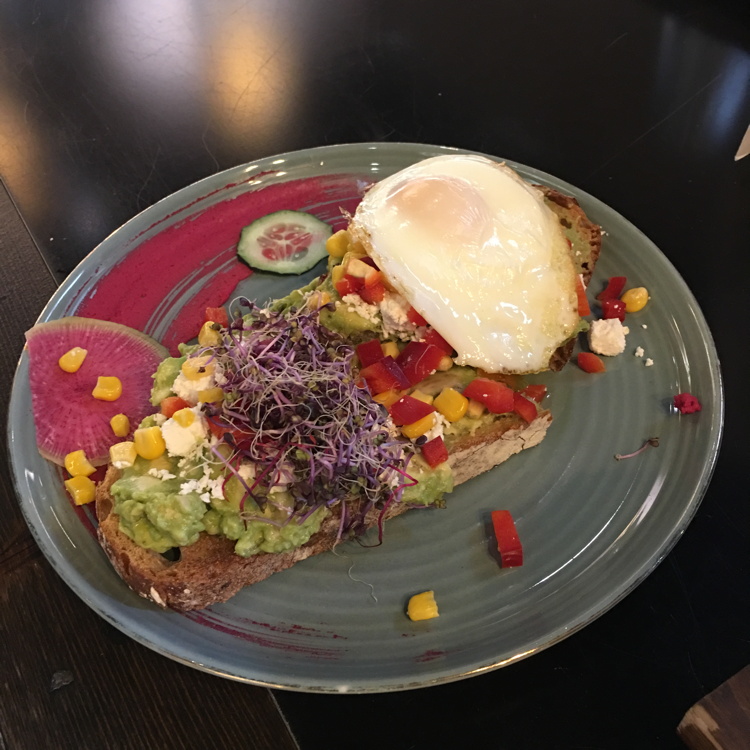 Thursday was going to be the old town and city wall day, but first of all was brunch at La Fabrica. Again, a place I had been to before. The brunch was good, tasty and colourful to boot. We had enough energy now to make our way past the cathedral front, a la Game of Thrones and onto the wall walk.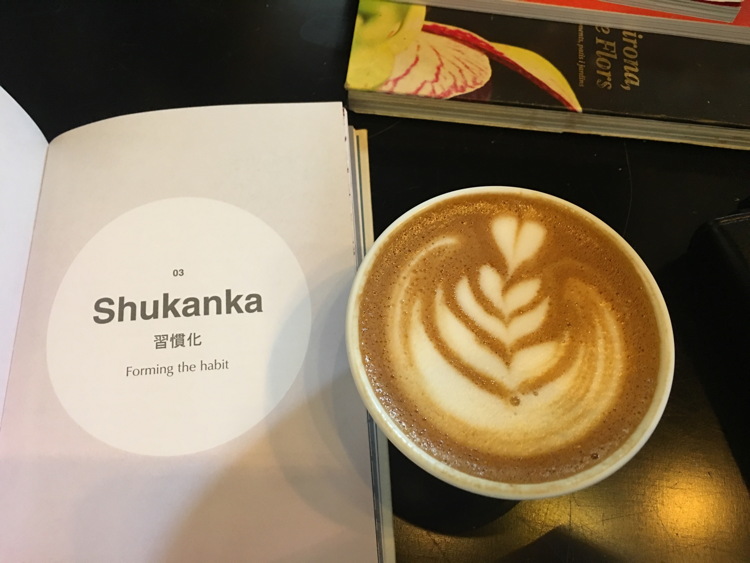 Check out La Fabrica on Instagram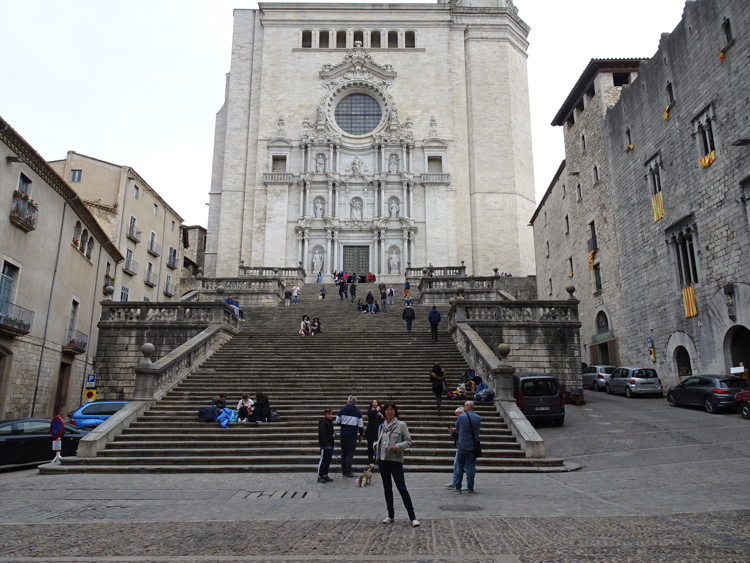 Every city should have a city wall to walk around, right? The Girona wall actually walk starts further north of the cathedral, but we caught it midway for convenience. It is worth starting at the beginning as you will see some small gardens, squares and bridges.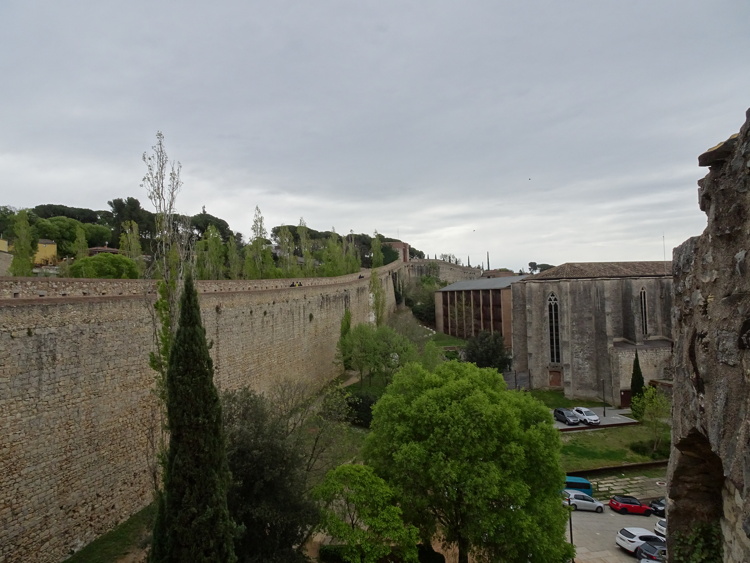 There are some distinct breaks in the wall walk. We decided to leave at the University Library building and make our way down the zig zagging hill and steps. If we continued, the wall would take to you the end of the old town and down by the river.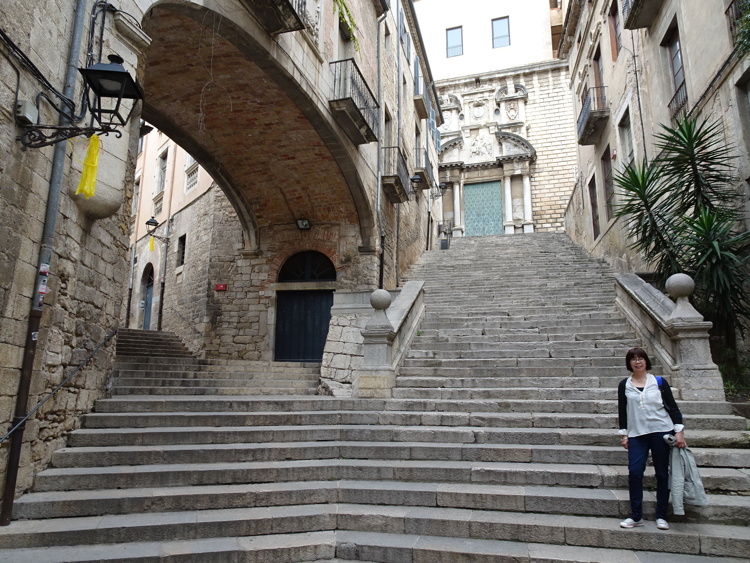 We rewarded ourselves with a strong beer a B12.
As Thursday was our last night, we had a snooze back at the hotel before venturing out for a meal to seal the trip away with.
A FOND FAREWALL NIGHT IN GIRONA
Do seek out the back street of Carrer Figuerola. We tried out L'Atelier for a couple of cocktails but there were more bars along that street. You wouldn't come across them unless you ventured off the main streets.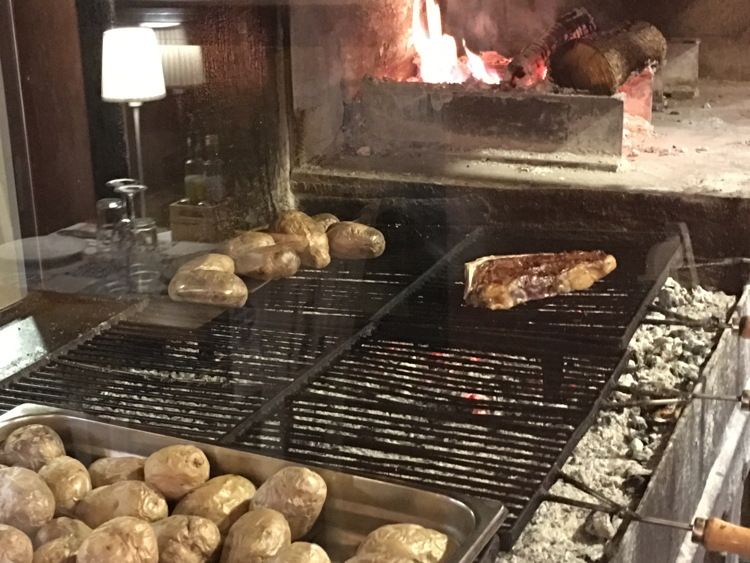 One memorable restaurant that we both went to on our very first visit was L'Agarda, all the more memorable as some woman was really kicking off about her steak for all the restaurant to hear.
Last visit I enjoyed my snails, although I couldn't do another full tray again, and the grilled octopus legs. This time I went for the large steak, which was not the even larger 1.5 kilo Tomahawk steak that the table behind was having. Angela's baked cod, which was the salted cod that came covered in cheese was a bit too salty. I ordered some beans thinking it would be a like stew as a healthy option, came in with bacon and was a complete carb fest. It was all a bit too much in the end and I won't mention the extra chips I ordered.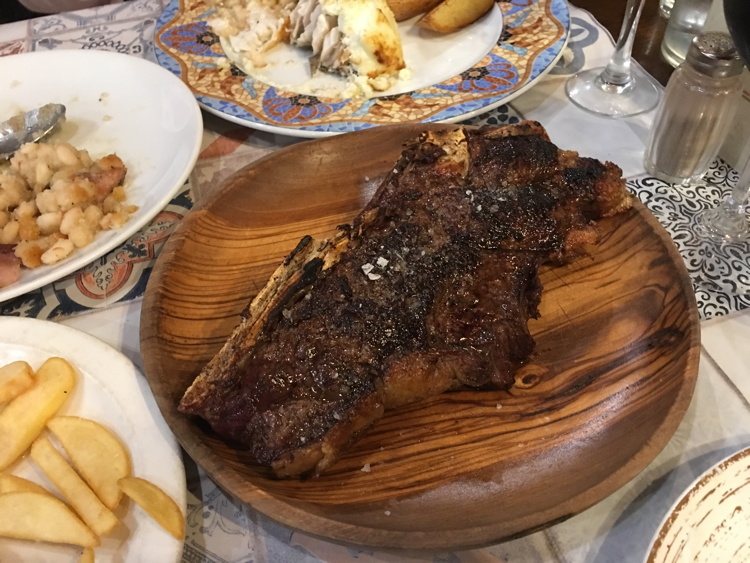 The final morning it was back to Plis Plas for a coffee and sandwich, then the return bus ride to the airport. Girona airport is really quite good. We bumped into a fellow Bournemouth friend that was coming back from her holiday as well, so a great way to end our easy break away.
It was a trip well executed.