Gin Night at the Larder House
Spoiler alert, if you don't want to know the lengths that the Larder House goes to on its theme nights then don't read on. If you are undecided or want to know more, then do take a read.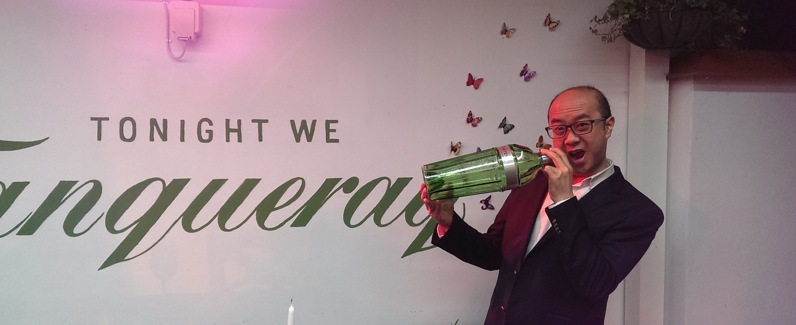 If you do go because of the article, then please do mention my name when booking. Not that you will get any discount, but good to know people are reading this.
It never fails to impress me the depth of effort that James and his team at the Larder House go to for their theme nights. They really do make it an all encompassing and immersive event of sights, sounds and participation. If only they could control the weather as well!

This Friday night, April 24th 2015, it was my second time attending one of their theme nights. The first I went to was their Whisky Night which I have written about already. This event had Tanqueray master distiller, Tom Nichol, in attendance to talk about his involvement in gin production. He is recognised as a legend in his field and truly a character.

As we turned up we were greeted by bartenders in attendance outside ready to sort us out an apertif - a choice of a freshly made Dry Martini or a French 75.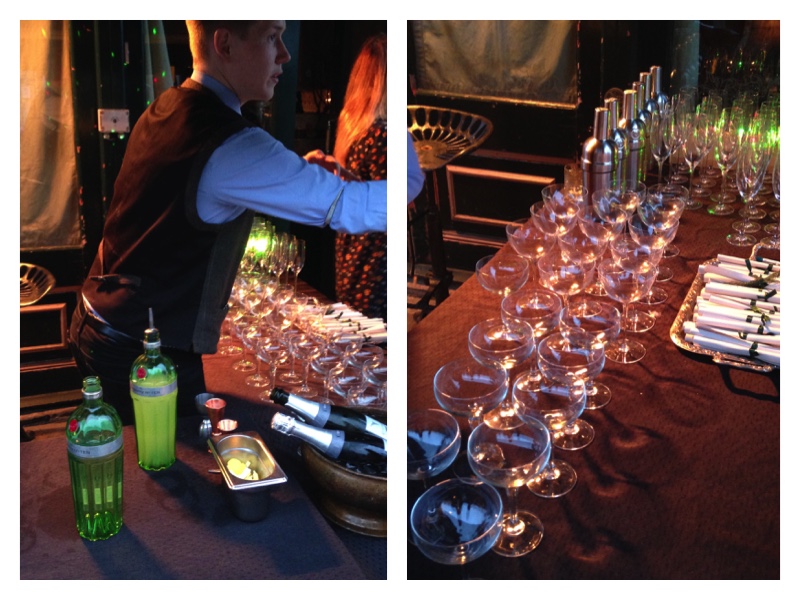 The windows were covered up so we couldn't take a sneaky peak inside but once we walked through the door we were transported back in time to Gin Lane complete with a wench and two urchin pickpockteers. Straw on the floor, sacks stacked up, all dark and candle lit.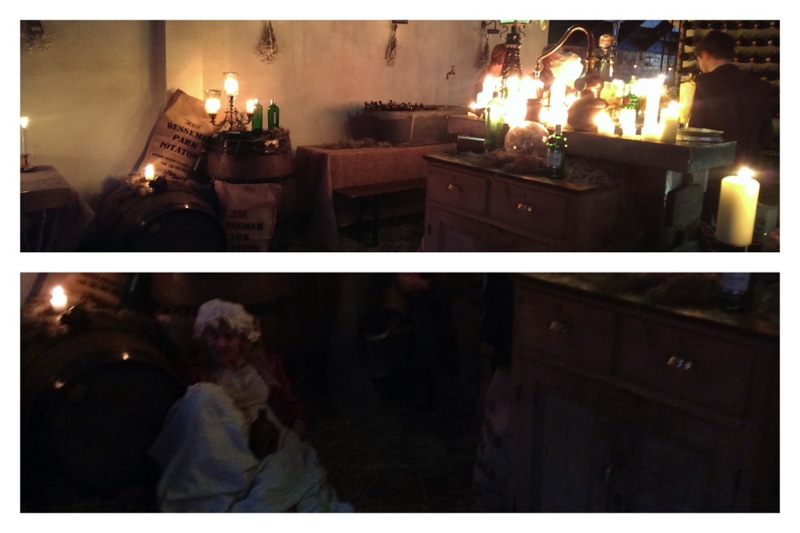 The canapes were soon out and it was amazing how tasty the pickled lemon sat upon discs of cucumber were. Something so seemingly simple. There was also a terrine and olive tapanade. A hot tasty onion broth came out too.

I hadn't finished my first drink when the second cocktail came out. It was a lovely zesty fizzy one with kumquat making up the citrusy element called Charlies Ginger Kumquat.

James then made an introduction to the night, well he had to do it above the amusing heckling of the gin wench. We then followed him into the garden courtyard or should I say "Botanical Garden".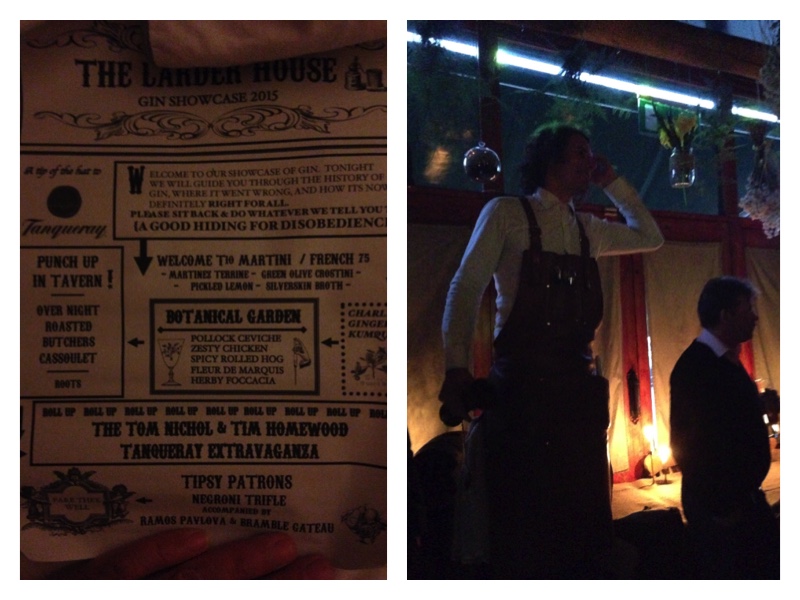 This part of the night was where we were all to get more involved in making our own drinks. On the table we had herbs and spices available for us to pick and mix using the pestle and mortar. There was also an array of tincture bottles that we could add to our drinks. All we needed to do once we prepped our flavour enhancements was to take a trip to the free flowing gin still.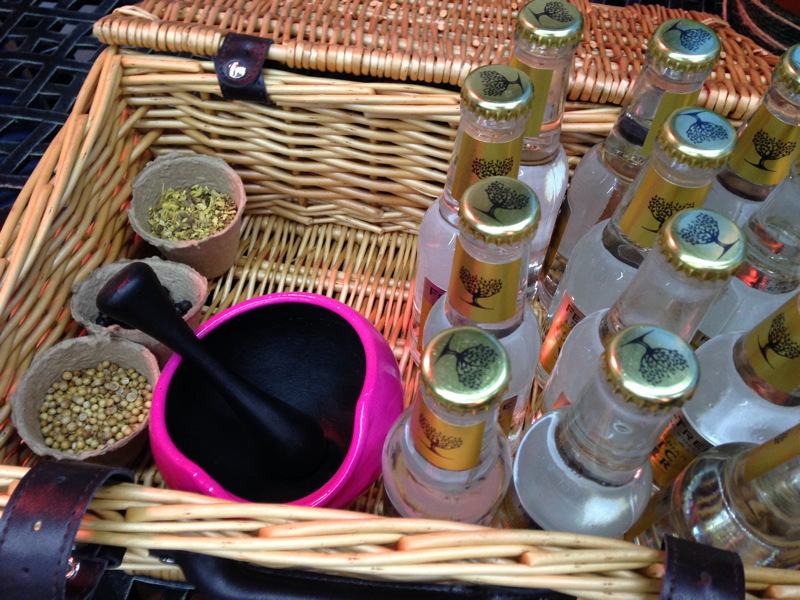 Ah yes, the free flowing gin. I knew I had to take it easy so only took a small amount for my first drink but could see others enjoying the night and going large! It wasn't long before they had to top the gin fountain up again.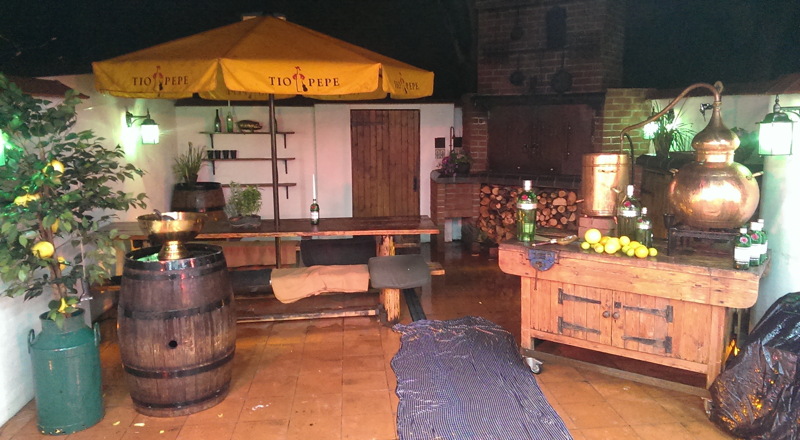 Slightly wet at the back unfortunately that night but you can see the gin fountain and that there were various citrus trees dotted around the courtyard with peelers so you could get lemon, orange or lime zest for your drink.
More food came out and the highlights for me were the ceviche and the soft cheese. (On the platter was pollock ceviche, zesty chicken, spicy rolled hog, fleur de marquis and herby foccacia)

Next it was upstairs in the Library for a tasting of two gins. What I found out afterwards was that those in the second group effectively got to stay behind even longer to get stuck into the gin. So, the tasting started first with the Tanqueray Old Tom and the second was Tanqueray No. 10. Tom Nichol talked us through things in his distinctive dour sweary Scottish way. This weekend was to be his last outing before he retires so we were quite honoured to be in his presence.

Drinking them both neat I was quite surprised at how sweet they were.

It was then back out in the courtyard for our final gin cocktail that had Aperol and Earl Grey tea if I can recall correctly, but was slightly more difficult by then. My friend seemed to think it was a good idea to try a few drops of garlic tincture into our drinks. Definitely didn't help, but some ginger and lime advice from the young bartender brought it back into something we could finish. Just remind me next time to avoid the garlic in a drink.

Then we were seated for the main course was an over night roasted butchers cassoulet followed by a trio of desserts. I really needed the food by that time and the stew was a lovely mix of meats of which I am guessing that rabbit was in judging by the small bones.

Another great night over with lots to talk about and remember. If in doubt, and you like your food and drink, then why not give it a try. Admittedly it ain't cheap but I think you get good value when you factor in all the drinks, nibbles and food, plus a fantastic experience.