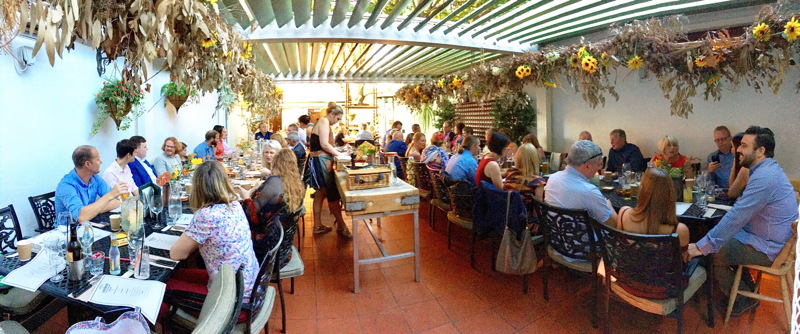 I am just recovering from a 3 day celebration weekend for our 20th wedding anniversary and wanted to quickly give the following people, venues and acts a mention as they all helped to create a fantastic weekend for us.
The Wight Bear micropub - they gave us a right surprise down at our evening beach BBQ delivering two different takeout cartons of stout as they know that is my tipple. #deliverbrew They also supplied beer to be used at our party at the Cliff House Hotel the day after. They can do the same for you, or you can hire their pop-up tent as well.
The Cliff House Hotel - this is where we had our family day event. Tim and his team ensured everything just flowed and our friends said the staff couldn't have been more helpful. Everyone was very impressed, and so were Angela and I.
The PB Pocket Orchestra - although not local per se, we first saw them play at the Library of Liquor and then catch them at Chaplins Bar in Boscombe when we can. Brilliant people.
Lydia Hannah Davies - young, beautiful talented singer who is local.
Jules the Entertainer - something for the kids, who loved it, and by all accounts something for the adults!
DJ Allan Turner-Ward - Britain's Got Talent semi finalist, thoroughly nice chap, huge fun.
The Larder House - well, it wouldn't have been any other place for our main adult's night out would it? We took over the event on a busy Bank Holiday weekend and they handled it magnificently, as I knew they would. Our friends just loved it. We were able to use the Library as well, a hidden surprise for our guests.
The Floating Rum Shack - another surprise was also in store for our guests with Peter Holland working his Tiki magic right at the top, so another floor in the Larder House building for people to explore.
Enrique and his Salsa Explosion - after dinner, Enrique got the party really started with a Salsa class, which was really fun and got people involved, even the mother in law with a bad knee. Then people danced all night.
A huge thank you to everyone for making it a fantastic extra long 20th wedding anniversary weekend for us. Over the moon that we did it all in Southbourne.
#SoBo #BH6tillIdie #shoplocal