Wednesday 14 June 2017 – I had booked early to go to this event in the refurbished old Print Room that is part of the Echo Building in Bournemouth and seeing as it was the founder of the fashion brand Ted Baker, I was really looking forward to it. I am a bit of a tart when it comes to buying Ted Baker shirts in the sales. I still have unopened packets upon packets much to the annoyance of my other half.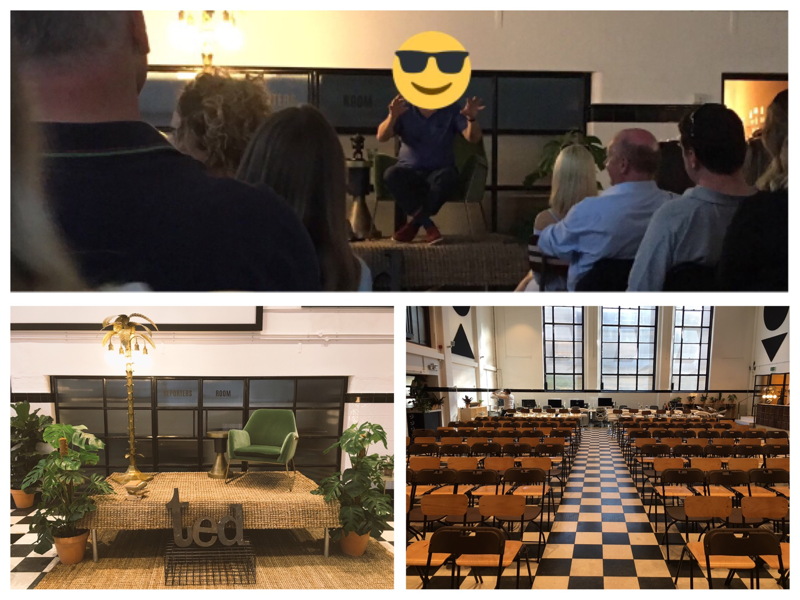 His face is mostly blanked out in his photos, so I've done the same.
On the Ted Baker Instagram account I kept on seeing views from a hotel room overlooking Bournemouth and I didn't quite get the connection. The room was filled with Ted Baker home furnishings but why from the Hilton in Bournemouth. Turns out the interior was designed by Ray Kelvin, the found of Ted Baker, who is also a majority shareholder of the company that built the hotel.
Following on from that, we found from the evening's talk that the same company is also being the refurbished building that we were sate in – THIS Workspace. Ray Kelvin has indeed invested time and money into the area that he used to visit as a child.
In a nutshell, he truly is a London geezer rags to riches kind of guy. He ain't no Karl Lagerfeld, nor would he remotely want to be one and hence the charm of the man all night. A straight-talking grafter who knows his craft, but also knows his figures meaning he runs a tight operation that is not over stretched with the corporate vanity of too wide a range of shops.