Oh shucks, that was a great Southbourne oyster festival (OK, enough puns already)!
The Larder House held an oyster festival on Bank Holiday Monday, 29/5/2017.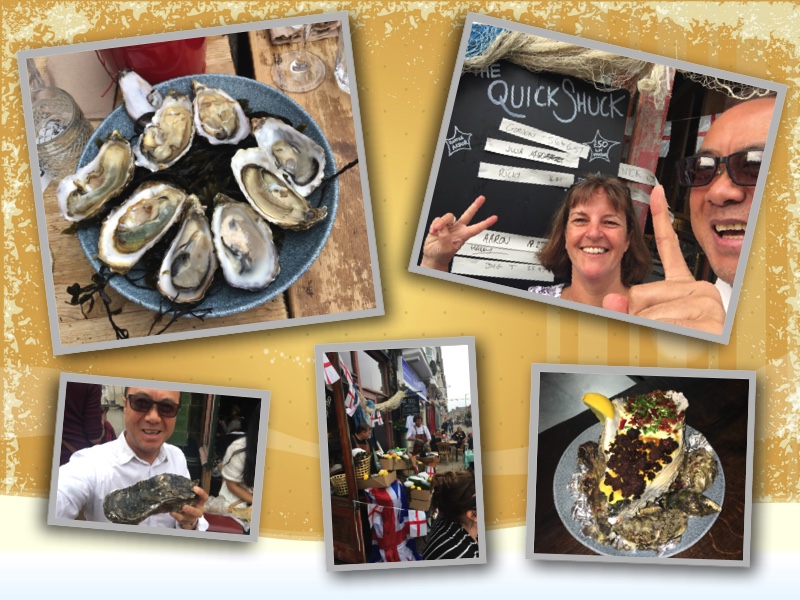 The weather was a bit misty and a bit windy, but maybe that fitted in with a seafaring theme. Thousands of oysters had been order coming in from Ireland, France, Cornwall and Poole Bay all ready for us to chow down on.
There was even two 5 year old monsters on show as well. Not sure how such a beast would taste, but it got baked with cheese and black pudding at the end of the day, once James was able to hack his way into the thing.
Apart from trying all the oysters, many times over, there was a competition to find the fastest mother of all shuckers in town. James and Chef Nick laid down the gauntlet with their times from the previous days in the run up to the event. I even got a few oysters from Waitrose so I could practice at home. No, I'm not hugely competitive...
To get things going as nobody else had registered a time on the board, I got Salvatore up and we had a little mini-competition. I may have been a little bit cocky in my win by doing a knife drop as I walked away, but the crowd seemed to like it.
In my next round I got totally destroyed by Chef Nick. Well played sir. By now I found the error of my ways. I was just my wooden holder too much, which meant the oyster shell was getting jammed into it as I prised the lid open. Now with me just holding the oyster down tightly, and risking severing the arteries in my wrist I was able to improve my time to just over 6 seconds.
Being egged on by the glorious crowd I had one final attempt. There is no artistry in this final shuck, no finesse, just the desire to go sub 6 seconds. It was like Top Gear as my timing got placed onto the leaderboard. 5.66 seconds, the crowd went wild and I went to the toilet to clean up. My Instagram video is below.
The look on Megan's face you'd think she was going to throw up in horror. We had a fantastic few hours there and a big thank you to James and the Larder House team for putting on a great event.