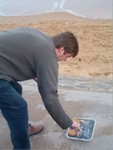 Unfortunately most of the lads are away for Rich Philip's stag weekend in Berlin (the German city) as opposed to Berlins (the Bournemouth nightclub). However, it will still go ahead for the Friday night, 6pm onwards at the usual place. The fireworks should be on that night.

Bring some warm clothing for latrer on though. I suspect it will be cold by then.

Bring your own disposable BBQ, food, drink and Speedos!