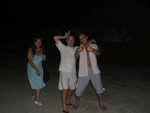 Me and Angela went to Lagos in Portugal for a week. Me for karate training and Angela for the sun. It was over 30 degrees most days, although at 6.30am it was pretty cool for when I had to run up and down a huge cliff by the beach.

The food was excellent. I probably had my fill of squid kebabs by the end of the week. The monkfish and cataplana was extremely nice as well. So cheap, about £7 or £8 compared to £15 in the UK for similar stuff.

The barman in the bar/restaurant we went to mostly, must have been sick when they saw the sight of us. With Peter in tow, he would normally be there till after 2am. I could only do it one night but needed the sleep. The night that photo was taken, I only had about 3 hours sleep and then had to wake up and run up the blasted hill again, before going into the sea. That was refreshing though.